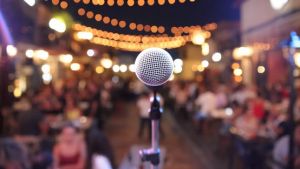 Speech Contest
The Rotary Club is holding its annual speech contest for students in grades 9 through 12. The theme of the contest is "Be the Inspiration." There are three levels of competition. The first is the club level, followed by the semifinals, and then the finals. The deadline to apply is February 28. The club level contest will be held on March 6.
The speech must be between five and eight minutes. Notes are allowed at the club level, one 3" x 5" index card is allowed at the semifinal level, and no notes are allowed at the finals. Prizes range from $50 to $1,000.
To enter, contact Suzanne Kennedy at sekennedy@hotmail.com and complete and submit a form to her by February 28.
Scholarship
The Sacramento County LGBTQ Caucus is offering a scholarship to students who are enrolled in or expect to be enrolled in an accredited college, university, technical or trade school in Fall 2019. Applicants must identify as LGBTQ, reside in Sacramento County, and have a GPA of 2.0 or above. The application deadline is March 23 at 5:00 p.m. To receive an application, email LGBTQcaucus@saccounty.net.
2019 Sacramento County Career Fair
Sacramento County is the third largest employer in the region with more than 12,000 people working across more than 30 departments and offices in fields such as technology, health care, finance, waste management, social services, law enforcement, parks, and voter registration.
The Sacramento County Career Fair will be held on Saturday, March 9, from 10:00 a.m. to 2:00 p.m., at 2860 Gateway Oaks Drive, Sacramento, 95823. You can meet with department representatives to get your questions answered and get details unique to the departments, such as available positions, locations, and day-to-day work activities. There will be workshops on how to navigate the application and exam process, and you can apply for jobs using the onsite computer lab.
To register for the Career Fair, visit: https://www.eventbrite.com/e/2019-sacramento-county-career-fair-registration-54871335642